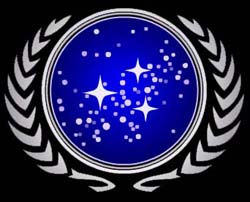 Disclaimer: Star Trek™, Star Trek: The Next Generation™, Star Trek: Deep Space Nine™, and Star Trek: Voyager™ are registered trademarks of Paramount Pictures and Viacom. All material found on the pages on this site are for promotional purposes only, and not personal or financial gain. No infringement on their copyrights is intended. This is a Star Trek Fan Site for the sole purpose of promoting the beliefs and ideals of Star Trek. No profit is made with this Website! All written or graphical material that has not come from either Paramount or Viacom is Copyrighted to Andrea Schubertová or the Owner of that work.
Vítejte na Hvězdné flotile.

Cdre. Leian
Poslední update:
24. 2. 2003
!Zde čtěte, co je nového na HF!

Ukázka z našich galerií hvězdných lodí: